Steps For Healing Virtual 5K Remembrance Run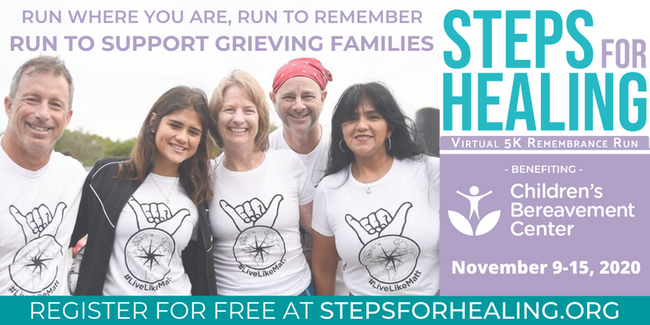 SIGN UP (with a team or as an individual)
RAISE FUNDS FOR CBC'S FREE VIRTUAL GRIEF SUPPORT GROUPS
RUN WHERE YOU ARE, RUN TO REMEMBER, RUN TO SUPPORT GRIEVING FAMILIES
Join us at Steps for Healing Virtual 5K Remembrance Run and raise funds for Children's Bereavement Center's (CBC's), FREE VIRTUAL grief support groups for children, teens and adults in South Florida.  CBC's services are needed now more than ever, providing a weekly outlet for kids and adults to share their grief with others.  Run/walk in memory of a loved one or for the community. Grief is meant to be shared. 
FREE Registration Includes:
Customizable Fundraising Page

Honor a loved one who died by sharing photos and memories of their life

Customizable Race Bib 

Decorate your bib and tell us who you will run to remember

Suggested CBC Memorial Activities

Make your walk/run more meaningful

Certificate of Participation 
Spotify Playlist 
Warm Up Videos
Community Service Hours
How does a Virtual Remembrance Run Work?
Our virtual remembrance run Steps for Healing takes place the week of November 9 - 15, 2020 and allows you to participate from wherever you are. You can choose to participate by yourself, or with your closest family members or friends. Just step into your neighborhood, head to a nearby park, or even hop on your treadmill and complete a 5K distance.  Complete your 5K in one day or over the course of several days. Whatever works best for you!
We encourage you to use this 5K as an opportunity to memorialize a loved one. You can honor their life by:
Decorating your race bib with your loved one's name and photo
Creating team memorial shirts
Wear a keepsake item while you run or other memorialization activities
Be sure to share your photos and memories using #IRuntoRemember #stepsforhealing and tag @miamicbc. Once completed, you will enter your finish time into your Run Signup account and download your certificate of participation.
"Sponsor My Run" 
For every $1,000 raised, 1 child can attend the CBC's free grief support groups for an entire year: 
Create a TEAM with your friends, family members or colleagues or register as an INDIVIDUAL. 
Help fundraise by encouraging people in your community to sponsor your run or team's run.
Register now for FREE at www.stepsforhealing.org
Sponsorship
For sponsorship opportunities please contact Director of Community Relations & Outreach, Kim Bentkover at kim@childbereavement.org or call 305-423-6001.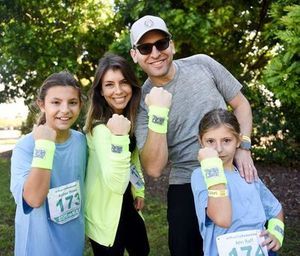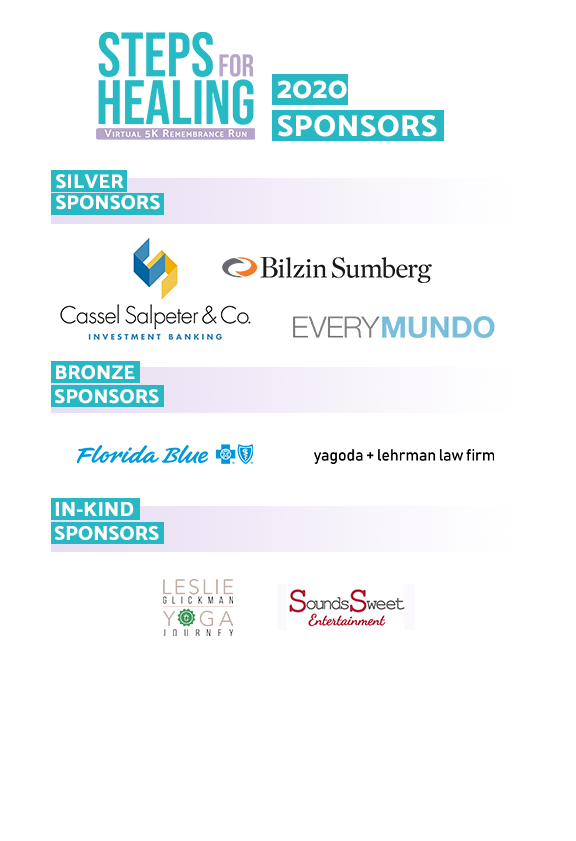 --> -->