Help Grieving Children & Families: Support CBC on Giving Tuesday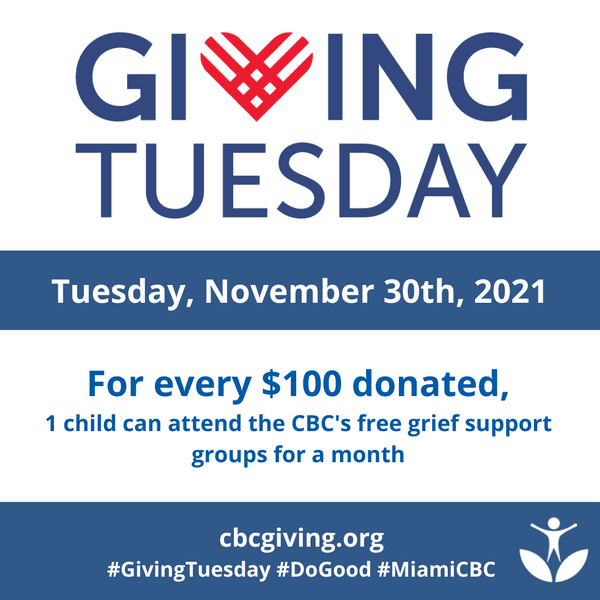 Children's Bereavement Center offers children, families and individuals who are struck by grief FREE virtual grief support groups, accessible every week from the safety of their own homes. Our virtual groups started when COVID-19 first began spreading and will continue post-pandemic to provide a community of empathy and hope and help remove feelings of isolation and loneliness.
CBC is asking for your generosity and support on Giving Tuesday, a global day of giving and unity on November 30th, 2021.
DONATE to CBC! Your support will help us continue to serve the community now and will ensure that we are stable in the months to come.
Please help grieving children and their families in South Florida and even beyond our state lines, by becoming a supporter of Children's Bereavement Center.
$5,000            Sponsor a CBC Family for One Year
$1,000            Sponsor a CBC Child for One Year
$500               Sponsor a CBC Child for Six Months
$250               Sponsor a CBC Child for Three Months
$100               Sponsor a CBC Child for One Month
$25                 Sponsor a CBC Child for One Week
Any Amount is Appreciated. To make a secure donation online with a credit card, please fill out the form below and submit. You will then be directed to PayPal.

Or you may click below to print a form and and mail your contribution to:

Children's Bereavement Center
6619 S. Dixie Hwy., Suite 302
Miami, Florida 33143
Phone: 305.668.4902 – Fax: 305.669.9110

--> -->