Rockin' on the Green 2019
Children's Bereavement Center on 05/11/2019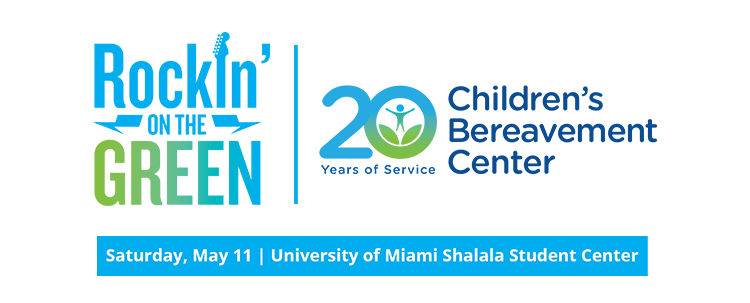 At this year's Rockin' on the Green, the Children's Bereavement Center celebrated 20 years of serving our South Florida community with FREE grief support services. Each year, the Children's Bereavement Center touches the hearts of over 1,500 participants across 10 site locations in Miami-Dade County, Broward County and Palm Beach County.
With the help of our friends and supporters over the past 20 years, the CBC has empowered children, teens, adults, parents and caregivers to build resilience and hope after the loss of a loved one. 
This year, we were joined by 500 of our most committed supporters at the University of Miami's Donna E. Shalala Student Center. This awe-inspiring night included a gourmet dinner, live and silent auction, and incredible music and dancing.  
Our guests heard the stories of three CBC participants; Desna Johnson, who lost her baby brother, mother and grandmother in a tragic car accident when she was only 8 years old, Sergio Mendoza, who lost beloved his wife and his cherished sister, and Max Schatcher, who lost his wife in 2008 and his son in the Marjory Stoneman Douglas school shooting in 2018. 
Rockin' on the Green Emcee and ABC News Correspondent, Victor Oquendo, also shared his story of losing his father to a heart attack when he was only 15 years old and the impact that had on his life. 
This incredible night was finished off with a candle lighting memorial, honoring the lives of friends and family members who have passed away as well as the 17 lives lost in Parkland, Florida on February 14, 2018. 
We're extremely grateful for the support that our Rockin' on the Green sponsors showed this year. We'd like to thank each of these amazing companies and organizations who are committed to helping those in our community who are struggling with the loss of a loved one.
Sponsor-A-Child Matching Funds
The Batchelor Foundation
Presenting Sponsor ($15,000)
Azamara Club Cruises
Colson Hicks Eidson
Spotlight Sponsor ($10,000)
Crystal Cruises
Elizabeth & Nathan Leight
Krillion Ventures & Jeffery Miller
Land Rover North Dade & Warren Henry Jaguar
M Feldman & Sons
Quintess Collection
Rockin' Sponsor ($5,000)
Akerman LLP 
Apollo Bank 
Bacardi
Bilzin Sumberg
Cassel & Cassel
Cassel Salpeter & Co. 
DLA Piper and 
Angelina & Joshua Kaye 
Everymundo 
Florida Blue 
Frazier Family
Greenberg Traurig, LLP 
Lalchandani Simon PL
Lisa & Melissa Goldman
Maria & David Schwedel
Farra Family
New York Life
Southern Glazer's Wine & Spirits 
Stearns Weaver Miller 
The Eilah & Ben Beavers Gift Fund
Vicki Miller & Warren Zinn
Rollin' Sponsor ($1,500)
Cindy & Jeffery Gomez
Colleen & Richard Fain
DBK Concepts and 
Danny & Elaine Katz 
Fiske & Co. 
Genovese Joblove & Battista, P.A. 
Getaroom.com 
Goldberg & Rosen, P.A.
Gunster Yoakley & Stewart, PA 
Laura Haim 
MK Real Estate Group 
Restore Construction Group 
Stephen Rossman
Cake Sponsors
Bachour
Fireman Derek's Bake Shop
Joanna's Marketplace
Marmellata Bakery
Moni's Sweets
Misha's Cupcakes
Publix Supermarkets
Taste & Tell
Whole Foods Market
Event Partners
Chef David Schwadron Cuisine & Event Design
Chicken Kitchen
Sounds Sweet Entertainment

 

--> -->