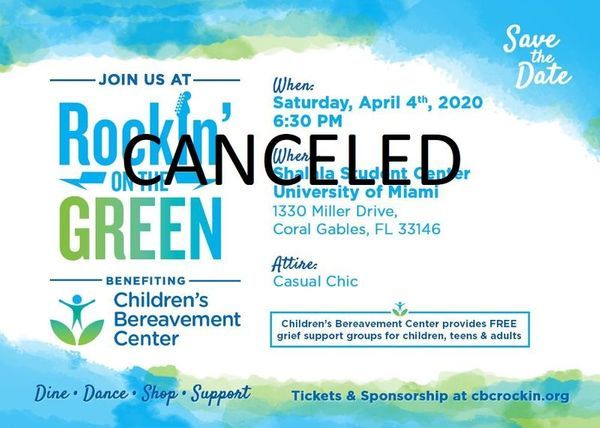 ROCKIN' ON THE GREEN IS CANCELED 
In the face of the Coronavirus Disease 2019 (COVID-19) outbreak, and in the spirit of caution and concern for the health of our attendees, Children's Bereavement Center (CBC) has made the decision to cancel our annual fundraising gala, Rockin' on the Green, which was set to occur on April 4, 2020 at University of Miami. 
This annual gala raises a third of our yearly budget, allowing us to keep our grief services free for the community and reach many families with limited resources. Please consider making a donation today and 100% of your contribution will be used to provide services for grieving children and families in South Florida.
If you have any questions about your sponsorship, contact our Marketing Director, Katelyn Gimbel, for more details at 305-423-6001 or katelyn@childbereavement.org.
Our Honorees:
Penny Shaffer, PhD
Penny Shaffer is the Florida Blue Market President for South Florida. In this role, Dr. Shaffer is responsible for the company's business operations in an 8-county region from the Keys north to the Treasure Coast. Prior to joining Florida Blue in 2006, Shaffer had a distinguished 26-year career as a senior executive at AT&T. Throughout her career, Penny has been active in many communities and is a CBC advocate.
Edward Golden, JD
With a background as a school psychologist and Special Education instructor, Ed Golden has been practicing law since 1977. During the last 30 years as a Miami-Dade County probate lawyer, he has been focusing on the areas of Probate, Guardianship and Trust litigation and administration. Ed is currently a CBC Board Member.
Maggie Fader, MD
Dr. Maggie Fader is a pediatric hematologist-oncologist in Miami, Florida and is affiliated with Nicklaus Children's Hospital. Maggie is one of 18 doctors at Nicklaus Children's Hospital who specialize in Pediatric Hematology-Oncology. Maggie is currently a CBC Board Member.
Carol Berns Award Recipient: Megan Fitzpatrick
Megan Fitzpatrick is a dynamic educator and student success strategist who worked in MDCPS for 7 years as a math teacher. After earning her MBA, Megan started The Fitz Solution, a consulting company that empowers preteens, teens and young adults to thrive socially, academically, and professionally. Megan was first impacted by CBC as a group participant after her mother's passing. She later became a group facilitor and is now an active CBC board member, advocating for our mission and helping to reach more grieving children and families in need of support.
---
With the help of our friends and supporters for the past 21 years the Children's Bereavement Center (CBC) has provided free grief support groups for thousands of people, empowering children, teens, adults, parents and caregivers to build resilience and hope after the loss of a loved one. The CBC is now serving Miami-Dade, Broward and Palm Beach counties.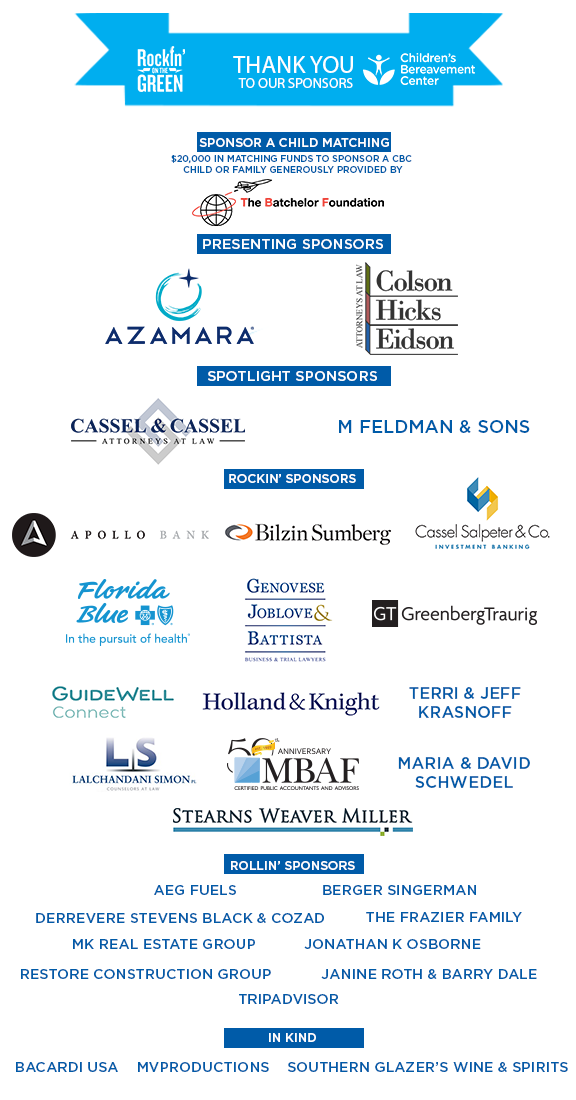 Auction Donation for Rockin' on the Green 2019
--> -->